Sawyer Camp Trail will be closed for two days, Wednesday, November 2, and Thursday, November 3, for work by the San Francisco Public Utilities Commission.
During the closure, construction crews will deliver additional rock for new access road segments and continue seismic upgrades to the Crystal Springs/San Andreas Pipeline. Water in this pipeline has been "turned off" for the months of October and November to facilitate this work.
The Crystal Springs/San Andreas Transmission System Upgrade project is part of the $ 4.6 billion Water System Improvement Program to repair, replace and seismically upgrade the Hetch Hetchy Regional Water System.
To receive construction updates and important information for recreational users of the Peninsula Watershed, subscribe to the website: www.sfwater.org/SCT or follow the project on Twitter: @SawyerCampTrail. Please call (866) 973-1476 (24-hours a day) with any questions or concerns.
The San Mateo County Sheriff's Office offers the following tips to help keep your Halloween trouble free:
PREPARATION:Â Â Â
Purchase several connectable "glow sticks" to wear as necklaces and bracelets. Â
Make sure kids wear light colors and, put reflective tape on their clothing or both. Â
Keep costumes a short length to prevent trips, falls and other bumps in the night. Â
Use make-up instead of masks if possible. Masks are hot and uncomfortable and obstruct vision. Â
Make sure the kids wear flame retardant costumes. Â
Create a map of a safe trick-or-treating route and set a time limit for your kids to return home. Â
Â
CHILDREN:Â Â
Carry a flashlight and always keep a safe distance from moving cars. Â
Cross at street corners, NOT diagonally across an intersection and NEVER between parked cars! Â
Look in ALL directions before crossing; obey all traffic signals; walk and NEVER run. Â
Wear a glow stick necklace and wear glow stick bracelets – These glow sticks have saved lives. Â
Do not take shortcuts through back yards, alleys or parks. Only visit homes with porch lights on. Â
Don't go inside anyone's home; instead remain on the porch at all times. Â
Don't accept rides from cars with strangers.  Â
Don't eat any treats until your parents have inspected them. Â
Discard any homemade or unwrapped treats. Â
Â
PARENTS:Â Â
Clear all outdoor obstructions such as ladders, hoses, and toys from your property and walkway. Â
Welcome trick-or-treaters with your porch lights and all exterior lights turned on early. Â
Make sure your "trick-or-treat" rules are clear to your children BEFORE they leave the house.  Â
Try to "trick or treat" while it is still light outside. Â
Carry a flashlight and use a powerful flashlight if at all possible – it will command attention better. Â
Parents should always accompany young children while trick or treating. Â
Older kids should "trick-or-treat" with friends that are known and familiar to parents.  Â
Trick or treaters should be in groups so they aren't a tempting target for real-life goblins. Â
Â
MOTORISTS:Â Â
Halloween is one of the nation's MOST DANGEROUS nights to drive a car. Use extreme caution. Â
Consider driving at least five miles per hour UNDER the speed LIMIT in residential areas. Â
Accept that you will be late to your destination; Call them, excuse yourself and drive extra slow. Â
 Â
PETS:Â Â
Costumes and special effects can be stressful on pets – they can misunderstand Halloween time.  Â
Electrical cords from special effects make tempting chew toys, or animals may become frightened of the "monsters." Take pets into a garage to calm their curiosity and cool their protective instincts. Â
Halloween treats can be deadly to dogs and cats. Shiny foil wraps attract animals and can cause intestinal distress. Chocolate, (especially dark) contain theobromine, a stimulant for humans, but causes shaking, seizures, heart issues and death for dogs. Sugar free candy and gum with Xylitol can cause liver damage, blood pressure drop and death. One gram of Xylitol can require veterinary treatment for a 22 pound dog. Raisins & grapes also can also have a poisonous effect and have caused kidney failure in dogs. Keep these dangerous goodies away from pets!Â
Â
Get more information on the San Mateo County Sheriff's Office at www. SMCSHERIFF.com
Bring your sneakers and your best costume for the final Take A Hike of the 2011 season this Saturday, October 28. It will be SPOOKTACULAR! Best costume wins a prize!
The hike begins at 9 a.m. at Coyote Point Recreation Area in San Mateo. Take A Hike is a ranger-led hike that encourages residents to discover a San Mateo County park one Saturday each month.
Plan to spend at least 45 minutes for this activity. Rangers and volunteers will provide information about park history and the local habitat. Bring water, dress in layers and wear comfortable shoes. We supply the beauty and fresh air courtesy our San Mateo County parks.
Once you enter the park, follow the signs for Take A Hike. The hike will feature a portion of the Bay Trail.
This is a very kid friendly event. Most of the trails are paved and suitable for strollers. In the spirit of the season, costumes are encouraged for this hike.
For more information, call (650) 599-1009.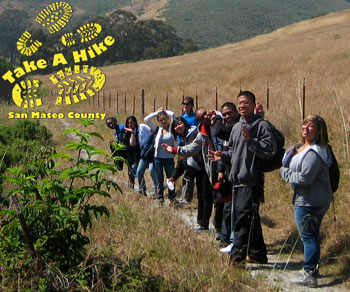 Monday, October 24, is the last day for eligible voters to file a new or updated voter registration card to be entitled to vote in the November 8 Consolidated Municipal, School and Special District Election.
To be eligible to register to vote, a person must be: (1) a U.S. citizen; (2) at least 18 years old on Election Day; (3) not in prison or on parole for a felony conviction; and (4) not deemed by a court to be mentally incompetent to register and to vote. Further, registered voters must re-register whenever they have (1) moved to a new address, or (2) changed their name, or (3) desire to change political party affiliation prior to a Primary Election.
Voter registration cards are available at the County Elections Office, as well as at any public library, city hall, or any office of the U.S. Postal Service or Department of Motor Vehicles. Cards are also available online, from the website of the California Secretary of State at https://www.sos.ca.gov/nvrc/fedform/
Voter registration cards require the applicant's original signature and must be submitted in person or through the mail. A mailed registration card that is postmarked on or before October 24 will satisfy the deadline.
The website of the County Elections Office provides the latest registration statistics, updated weekly: https://www.shapethefuture.org/voterregistration/registrationstats.asp
The website also contains a link that allows eligible and registered voters to confirm their current registration status on the Home page, click on "Check My Registration/Access My Election Materials/View My Sample Ballot Pamphlet."
Contact: Mark Church, Chief Elections Officer & Assessor-County Clerk-Recorder
Phone: 650.363.4988 Fax: 650.363.1903 E-mail: mchurch@smcare.org
Alternate: David Tom, Deputy Assessor-County Clerk-Recorder
Phone: (650) 312-5222 E-mail: dtom@smcare.org
The San Francisco Public Utilities Commission has informed us that Sawyer Camp Trail will be closed Wednesday and Thursday, October 19 and 20, for work on their water pipeline project.
The trail is scheduled to reopen Friday at sunrise.
The trail was scheduled to close earlier this month but the work was delayed due to rain.
This work is part of the $ 4.6 billion Water System Improvement Program to repair, replace and seismically upgrade the Hetch Hetchy Regional Water System.
Please contact the San Francisco PUC 24-hours a day with any questions or concerns: (866) 973-1476. You can also subscribe to an e-newsletter for updates at: http://www.sfwater.org/SCT or follow the project on Twitter: @sawyercamptrail
On Monday, October 24, members of the public are invited to share a potluck dinner and learn about local efforts to promote a food system that is affordable for all residents, profitable for farmers and ensures access to land for future generations.
The free event is sponsored by the San Mateo Food System Alliance in honor of Food Day, a nationwide grassroots campaign to encourage Americans to "eat real" and support healthy, affordable food grown in a sustainable, humane way. The Alliance's mission is to inspire and connect people to the source of their food.
The event will also include a series of short films about Pie Ranch, a nonprofit educational farm in Pescadero, and a brief panel discussion on the Alliance's work to promote a sustainable food system. It will take place from 5:30 to 8 p.m. at the Foster City Library.
The Alliance encourages participants to join the potluck and bring a dish prepared with a local ingredient.
The three films, approximately 5 to 7 minutes each in length, will show how local high school students learn about food by baking pie. On a pie-shaped farm, Pie Ranch focuses on three key activities: growing food with sustainable farming practices, educating youth, and training future farmers. They also offer apprenticeships for aspiring farmers.
Alliance members will discuss their efforts to increase access to agricultural land, promote garden-based education in all schools, support sustainable food policies, and connect county grown produce to schools and hospitals. Panelists will include: Jered Lawson, executive director of Pie Ranch; Ned Conwell, co-owner of Blue House Farm; Robin Galas, Garden Program Director of the San Mateo County Court and Community Schools; Cindy McCown of Second Harvest Food Bank; and others.
On October 4, the San Mateo County Board of Supervisors issued a proclamation supporting the San Mateo Food System Alliance and Food Day and endorsed "the continued efforts of the Food System Alliance to improve access to locally, sustainably produced and healthy food in San Mateo County."
Event Details: When: Monday, October 24, from 5:30 to 8 p.m. The films will begin at 6:30 p.m. with the panel discussion and Q&A at 7 p.m.
Where: Foster City Library, 1000 E. Hillsdale Blvd., Foster City.
Space is limited and residents should RSVP to Juvy Ann Reyes at jareyes@co.sanmateo.ca.us or 650-573-2398 by October 19.
For more information about the event and the Alliance, please contact Nicole Wires at 650-324-2769 or nicole@collectiveroots.org
Visit http://www.sanmateocofsa.org for more information.
Hundreds of other Food Day events can be found on an interactive map at FoodDay.org.
Attend free informational sessions and speak with a lawyer at Community Law Night on Thursday, October 20, at the San Mateo County Hall of Justice, 400 County Center, Redwood City.
The event will be from 5:30 to 7:30 p.m. Child care and refreshments will be provided.
Community Law Night is sponsored by the San Mateo County Superior Court, San Mateo County Bar Association and the County of San Mateo. For more information, call (650) 363-4168.
All San Mateo County offices except emergency services will be closed on Monday, October 10, for Columbus Day. The San Mateo County Superior Court will also be closed.
All offices will resume normal business hours on Tuesday, October 11.
The deadline for nominations to the San Mateo County Women's Hall of Fame is November 1.
Nominations are also being accepted for the Young Women of Excellence Awards and, for the first time, the Making a Difference for Women in the Workplace Award. That award will recognize one San Mateo County business or non-profit organization that has exemplary or model policies or programs that benefit women employees.
The annual San Mateo County Women's Hall of Fame, established in 1984, is an important and lasting way to recognize the incredible work of women of all ages and walks of life in our community.
Each year a new slate of women, including outstanding high school students, joins the ranks of some of San Mateo County's greatest contributors, an honor roll that today exceeds 200.
For more information please contact the Commission on the Status of Women at 650-363-4463 or cswinfo@smcgov.org